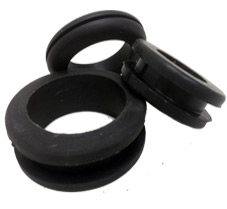 Porter Seal Company can supply grommets in any material, shape, and size customized to your specifications.
Grommets can be made of rubber, plastic, or metal and are easily used in common projects. Grommets made of rubber or other elastic material are also used to minimize the transmission of vibration.
If metal or other hard materials have a hole punched in, it will probably contain sharp edges. Electrical cords, wires, lacings, rope, or other vulnerable material passing thru can become cut or abraded. Custom plastic, rubber, or plastic coated metal grommets are commonly used to avoid this.
Our collection of common grommets in stock have inner diameters ranging from .094 in. to over 5 in. with an assortment of outer diameters and grooves widths. We also have access to virtually any sized grommet that is not stocked.
Our military grommets fully meet the required military regulations and range in a variety of inner diameters, outer diameters, and groove widths.
In addition to extensive inventory & standard O.E. product catalog, we offer custom tooling for particular specifications & requirements.
Porter Seal Company has the capabilities and expertise to customize products directly for you.
We manufacture & design custom products in varying types, shapes, and specifications to meet your needs.
Contact us for more information on your custom product requirements.