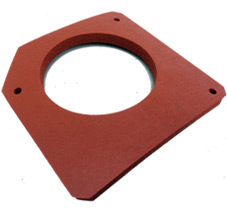 Gaskets are mechanical seals that fill the spaces between two or more mating surfaces to prevent any harmful leakage to or from the joined objects while under intense compression.
A gasket allows imperfect mating surfaces on machine parts and can fill irregularities. Gaskets are usually produced by molding or cutting from various sheet materials.
Gaskets are generally developed from flat materials such as rubber, silicone, metal, paper, cork, felt, neoprene, nitrile rubber, fiberglass, polytetrafluoroethylene (otherwise known as PTFE or Teflon) or a plastic polymer.
Porter Seal Company custom gasket products are affordable, durable, and eco-friendly!
In addition to extensive inventory & standard O.E. product catalog, we offer custom tooling for particular specifications & requirements.
Porter Seal Company has the capabilities and expertise to customize products directly for you.
We manufacture & design custom products in varying types, shapes, and specifications to meet your needs.
Contact us for more information on your custom product requirements.